New Method for Superior Integrated Hydrogen Generation System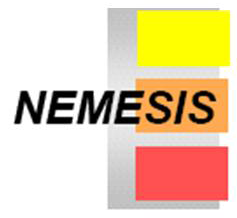 Title of Programme

SIXTH FRAMEWORK PROGRAMME

PRIORITY 6.1.ii

Sustainable Energy Systems

Financing Code for Project

019827
Project start year - end year
2005 - 2008
Financing organisation

EUROPEAN COMMISSION

RESEARCH DIRECTORATE-GENERAL

Coordinator
Deutsches Zentrum fuer Luft- und Raumfahrt e.V. (DLR)
Other partners

Budget / APTL Budget
3,868,437 € / 498,530 €
Scientific Manager / Project researcher
A. G. Konstandopoulos / G. Karagiannakis
Project website
http://www.nemesis-project.eu/
Summary

The objective of the project NEMESIS is to develop a small-scale, fuel flexible hydrogen generator that is capable of working with gaseous and liquid hydrocarbon feedstock.

The existing fuel processor technology of HyGear is used as a starting point, thus saving time and cost. This state-of-the-art small-scale hydrogen generator will be extended to a wider range of fuels and significantly upgraded by new innovative materials, and cost-effective, highly efficient sub components. An optimized system layout and the balance of plant analysis will lead to an integrated modular design comprising a fuel flexible Fuel Preparation Module FPM, a generic Hydrogen Generation Module HGM and a Hydrogen Conditioning Module HCM.

The project resulted in the following benefits and main deliverables:

development of novel, multi-functional materials – catalysts, sorption materials, and membranes;
detailed engineering and manufacturing of the FPM, HGM, and HCM modules for integration into a proof-of-principle prototype;
development of a system simulation code,;
testing of the integrated modular laboratory prototype having an output of 10 kg pure hydrogen per day;
concept for up-scaling to fuel 20 to 100 vehicles per day and integration into the existing infrastructure for transport and stationary applications including operational and safety aspects.

The know-how and experience of the consortium guarantees that all innovations developed within the NEMESIS project will be transferred into a proof-of-principle prototype being the basis for future commercial development. The consortium covers the future end-user and turn-key supplier of this new technology as well as manufacturers of materials, equipment and the complete unit in combination with well experienced research institutes working in the field of material preparation and testing as well as in design and modelling. Thus NEMESIS will consolidate a European leading group in multi-fuel small-scale hydrogen generation technology.