Aerosol Technologies and Hierarchical Assembly/ Manufacturing for Advanced Nano-structured Porous Materials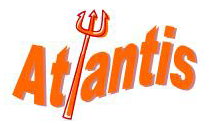 Title of Programme

FP6-NMP- NMP-2004–3.4.2.2-2

Financing Code for Project

IP 026678-2
Project start year - end year
2007 - 2011
Financing organisation

EUROPEAN COMMISSION

DIRECTORATE-GENERAL FOR RESEARCH & INNOVATION-FP6-PRIORITY 3-NMP Integrated Project

Coordinator
Centro Riserche FIAT (CRF)
Other partners

Budget / APTL Budget
9,026,570 € / 1,729,043 €
Scientific Manager / Project researcher
Project website
Summary

ATLANTIS is motivated by the fact that suitably 3-D engineered and functionalised porousstructured reactors can bring important breakthroughs not only in the already established market forautomotive emission control systems, but also on the emerging biotech markets of bacterial-cellsderivedpolymers and of mammalian-cells-derived recombinant protein antibodies. The S&T objectiveis to produce the required knowledge base and component technologies for the production of:

a highly efficient, compact, multifunctional, emission control system for the removal ofgaseous and particulate emissions from future Diesel engines;
a hyper-compact, high yield-continuous mode integrated bioreactor/separator for the bioproductionof polymers and of high value recombinant protein antibodies.

ATLANTIS radical innovations stem from novel and innovative processes, products and materialsand include:

hierarchical assembly/manufacturing processes for new porous materials, built from 0-D(powders), 1-D (fibres), 2-D (sheets) and up to 3-D (foams and honeycomb monoliths) buildingblocks, of diverse metallic and ceramic materials;
functionalisation with nano-structured catalysts and biocompatible surface treatments/coatings, employing novel Aerosol Technologies to achieve 3-D tailoring of porosity andsurface characteristics;
novel materials, not readily accessible by conventional chemistry routes.

The multidisciplinary and diverse application targets of ATLANTIS pull together advanced R&Defforts in Europe, integrating different blocks of research activities. ATLANTIS will shorten thedistance between R&D and market deployment in established as well as in 'niche' market areas. Thecritical mass achieved within the Consortium, led by a strong industrial leadership, includes specializedresearch centres, complemented by four large key industry players and five high tech SMEs, to ensurethat the R&D activities will have a clear market orientation, secure fast exploitation of results andcontribute clearly towards the objective of the Lisbon European Council in March 2000 to make the EU'the most competitive and dynamic knowledge-based economy in the world'.